Loopring is a decentralized protocol that uses zero knowledge proofs, otherwise known as ZK-rollups, to create faster and cheaper fees on the while maintaining security. This is the first Ethereum zkrollup to exist on the blockchain and it is by far the most popular, harnessing over 2000 transactions per second (TPS).
Loopring has been around since early 2018 and has maintained its popularity over the years. It is powered by the Loopring token, $LRC, which has its own market cap, circulating supply, and is available on centralized and decentralized exchanges.
Since its inception, Loopring has generated $5.4 Billion in trading volume, with over 133,000 accounts created on their platform with almost 42,000 smart contracts deployed on the Layer-2 network. Loopring has also expanded into zkrollup NFTs, which have generated $16.4 million in NFT trading volume, according to Dune Analytics.
Who Created Loopring?
Loopring was created by software engineer Daniel Wang who is also the founder of the Loopring Foundation and graduated from Arizona State University. His education as a software engineer helps fuel Loopring to be a crypto leader and have raised funds through the ICO process to get Loopring functional for the crypto world. Loopring is widely available on cryptocurrency exchanges like Binance with a strong circulating supply. Steve Guo took over as CEO of Loopring in April 2022, where he was formerly the CTO and has a history of being a lead software engineer and senior software engineer with a background in computer science.
Characteristics of Loopring
The Loopring network is composed of many different innovations from the Ethereum network and understanding how the blockchain can interact both on-chain and off-chain. Loopring by and large is a zkrollup protocol that gains all the functionality of a zkrollup and sends it back to the Ethereum chain with fully variable data. It was created by the Loopring Foundation and designed as a way to transfer settlement to a different layer, easing the burden on Ethereum.
Using Loopring enables extremely fast transactions and also makes them 100x cheaper than using the Etehreum Layer-1 network. The concept of Loopring is that blockchains can function as intended if they are faster and cheaper to use. This can help reduce any fees, including transaction fees, any maker fee or taker fee for trading, and any trading fees paid by the user. This reduction of fees and transaction cost is something centralized coins have done but Loopring protocol is not achieved in a centralized manner.
Using zkrollups is necessary for Loopring to work. The Loopring protocol and the LRC token is based on the Layer 1 network and is an ERC-20 token with Ethereum architecture. Originally, Loopring was built on top of NEO but was since migrated to the Ethereum network to promote the zkrollup scaling solution and because of the popularity on the new network.
How Does Loopring Actually Work?
Loorping is fully functional based on the zkrollup system that is built on the Ethereum blockchain, creating a safe and secure Layer-2 solution on top of the Layer-1 chain. In order to have a complete execution on the blockchain, Ethereum needs proof from one block to the other in order to progress the chain along. Zero knowledge proof will bypass this by verifying the validity of statements received on chain without needing the statements themselves to prove their identity. This would be similar to going to the bank or purchasing a vehicle without proving your identity, but having the bank or dealer discover who you are.
Functionally, the zkrollups do the work off chain, making it easier to compute and also faster. Loopring also has a function that takes an order ring and uses a matching technique to place orders together, making is easier and faster to make transactions even faster than almost all centralized and decentralized exchanges. Costs are approximately 0.15% of the cost compared to using a Layer 1 token for token swaps.
Loopring is currently in its 2nd version of the token and functions by using smart contracts and a series of ZKP circuits. The Loopring protocol is on its 3.9.0 update which has complete support for NFTs on the Layer 2 side of the protocol.
The LRC Token And Loopring Features
The Loopring token, also known as LRC, is the native token of the Loopring protocol. The token has its own market cap and has been with the Loopring protocol for over 3 years since its initial coin offering and is synonymous with the Layer 2 solution. The LRC tokens serve three distinct properties to loopring operate and to function with their smart contracts and off chain transactions.
First, the Loopring LRC token is used to reward users on the platform. LRC tokens are given through protocol fees to those who are liquidity providers, insurers of the chain, and the Loopring DAO. The other two ways LRC tokens are used is by governance (like the Loopring DAO) and to help generate more thrust into the L2 Ethereum blockchain network. Loopring fees help generate liquidity into the chain as well, which protects the Loopring price on the token, even when users buy Loopring or sell Loopring at a higher than normal level.
The token and the LRC chain is quite mature for a zkrollup system, with the token widely available on most centralized cryptocurrency exchanges and decentralized exchanges. It has a market cap of $603 million with a circulating supply of 1.2 billion LRC tokens as a max supply. The highest price that LRC has been was $3.24 based on the Loopring price chart, showing a massive success form their original LRC price of 15 cents. Loopring aims to continue through the next cycle with many improvements beyond a token with a simple market cap.
Among previous features, Loopring conducted progress to form an automated market maker as well. There is also a DEX that helps settle trades in real time and very comparable to non custodial exchanges. Among the features on the decentralized exchange, users can trade loopring at the current LRC price, exchange with different trading pairs, and do so with the lower costs and let Loopring work with its zkrollup smart contracts.
Other features that Loopring and the Loopring team bring to bring to the table is their Ethereum smart wallet, network dashboard, and NFTs. Users can also stake LRC tokens on the platform, exchange and buy crypto, and much more. Loopring is overall a solid zkrollup project in the world of decentralized finance.
Loopring Smart Wallet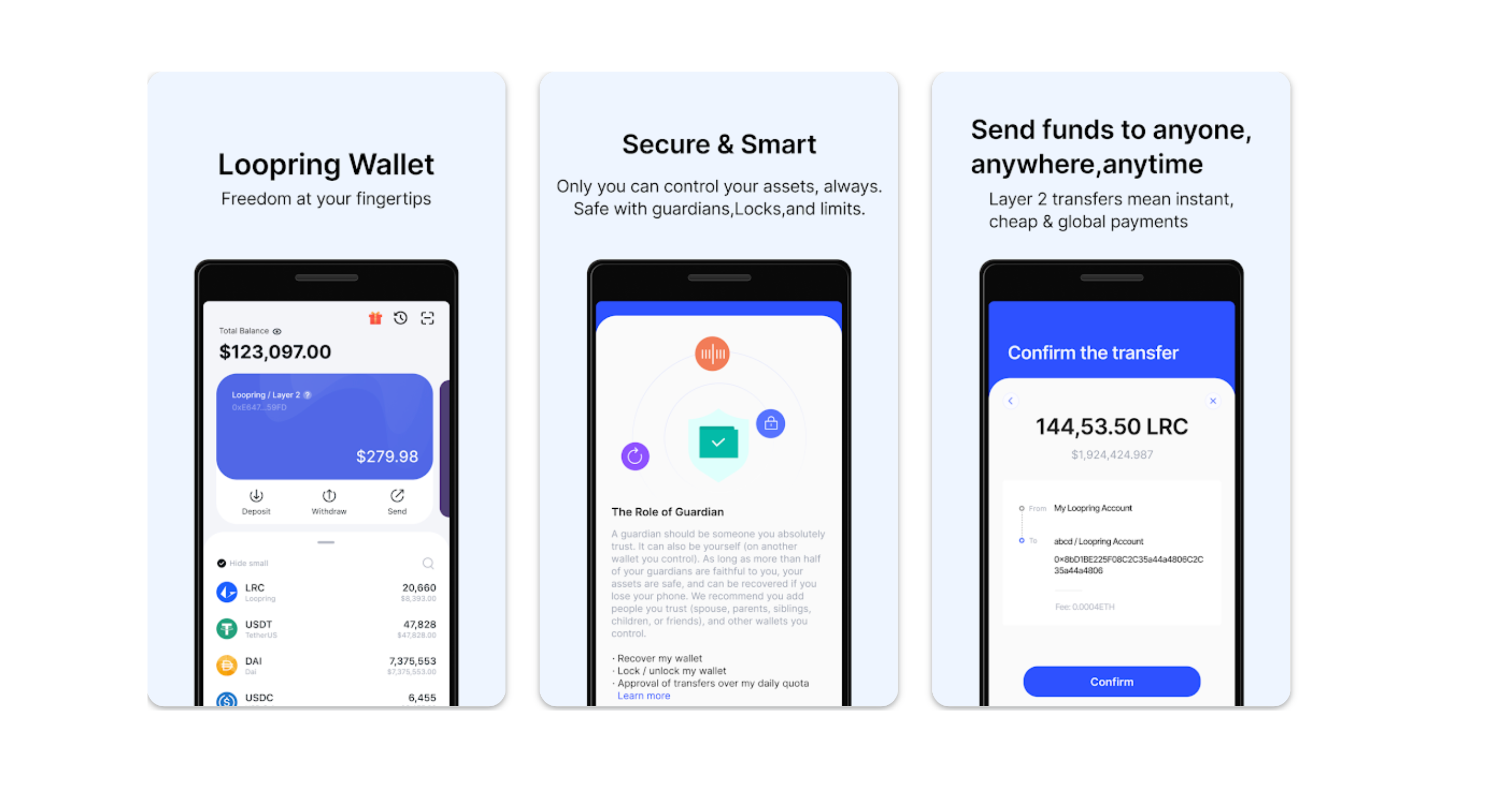 Loopring has a smart wallet designed to give users a secure way to access their portfolio, trade and swap tokens, and have a non custodial approach to their experience on Layer 2 with zkrollups. Users are in control of their private keys, just like a Layer 1 Ethereum wallet, and users can begin trading as soon at the setup is complete. This smart wallet app was created by the Loopring team but it is fully functional outside the Loopring site. Users can find the smart wallet either on the Loopring site, or on mobile devices. The smart wallet is available for web download, iOS devices, and Android devices.

The smart wallet from Loopring is safe and secure. Upon downloading the wallet, Loopring users but create a wallet, enter their email address with a verification code, and thats it. Users can toggle between Layer 2 and Layer 1 wallets natively in the app. Users must activate the Ethereum Layer 1 wallet for this compatibility, which will trigger protocol fees for creating the wallet, which is a one time fee which may be a larger overall transaction cost. After that, users can send Ethereum to the wallet to begin their trading.
The smart wallet differs greatly from centralized exchanges as there is no connection to an outside party or exchange operators. Users can hold Loopring LRC tokens on the wallet and buy Loopring directly from the wallet at the current Loopring price. Loopring tokens on the wallet are counted toward the market cap.
The Looping Network Exchange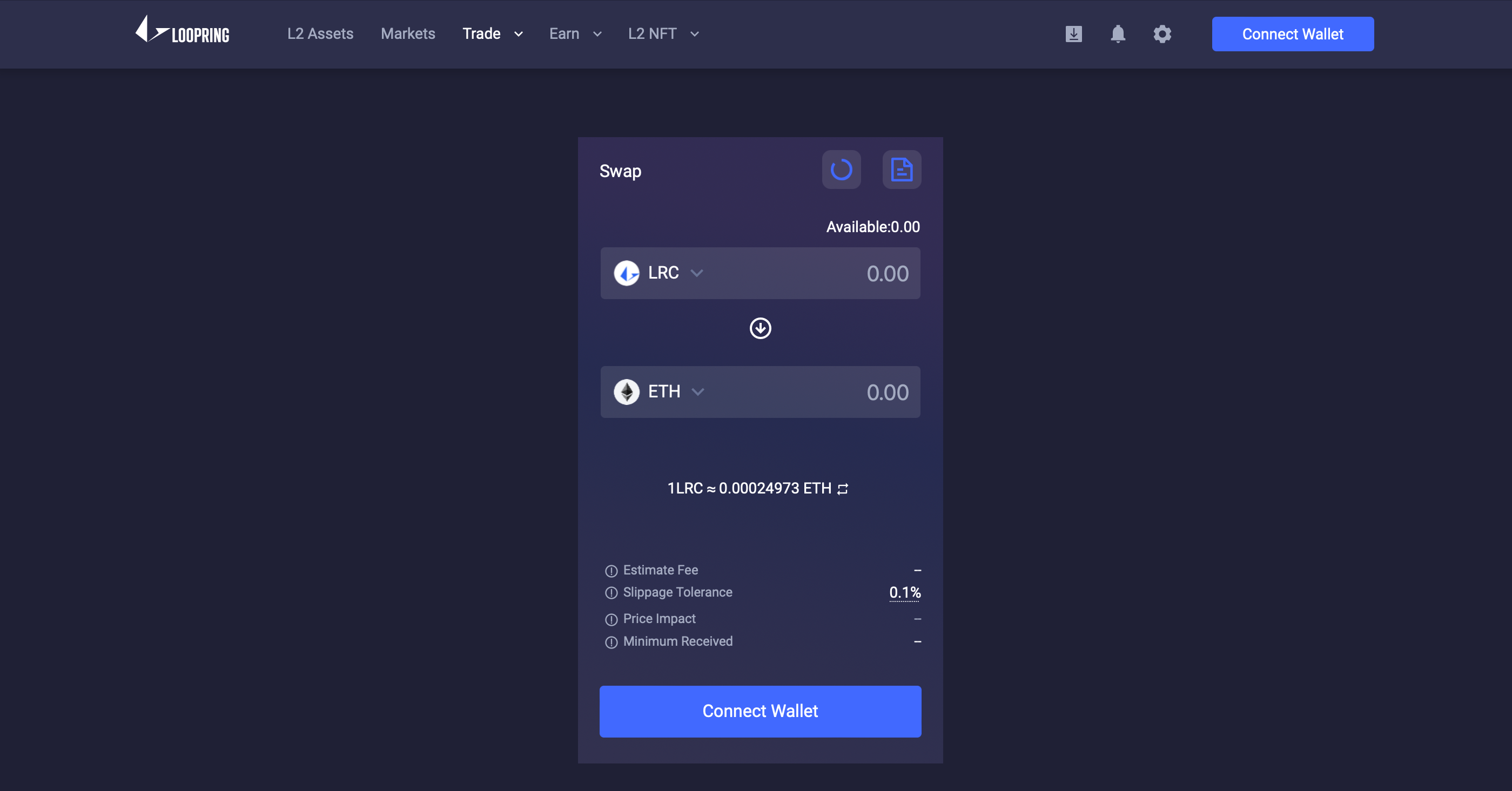 Loopring also has a native decentralized exchange similar to other decentralized exchanges like Unisawp, SushiSwap, and others that lets users trade directly on the Layer 2 platform. This is another way of using Layer 2 effectively and with the low cost and fact transactions by using zkrollups. Loopring based exchanges like this one showcase how well Layer 2 can actually work well. Trading on this exchange is non custodial and does not have the market makers of centralized exchanges. You can only trade coins on the Etheruem network and cannot trade other chains as well as fiat coins like the Hong Kong Dollar.
Trading at its current price on the exchange is considered a market settlement order, which must not be considered investment advice when trading coins on the platform. Users can also stake LRC on the dashboard, giving users a chance to gain LRC tokens based on the LRC price when they are distributed once a month. The Loopring LRC token is used heavily on the dashboard.
Users can also interact with the DEX through APIs that are available to connect with. Loopring has extensive documentation that allows people to the change log, relayer status, key management, request signing, and even example code. There are also five ways to connect with the API: Layer2 Open Account, Transfer ETRC20, NFT integration, Pay Payee to update accounts getting paid with tokens, and to setup accounts and get the seed for those accounts.
NFTs on Loopring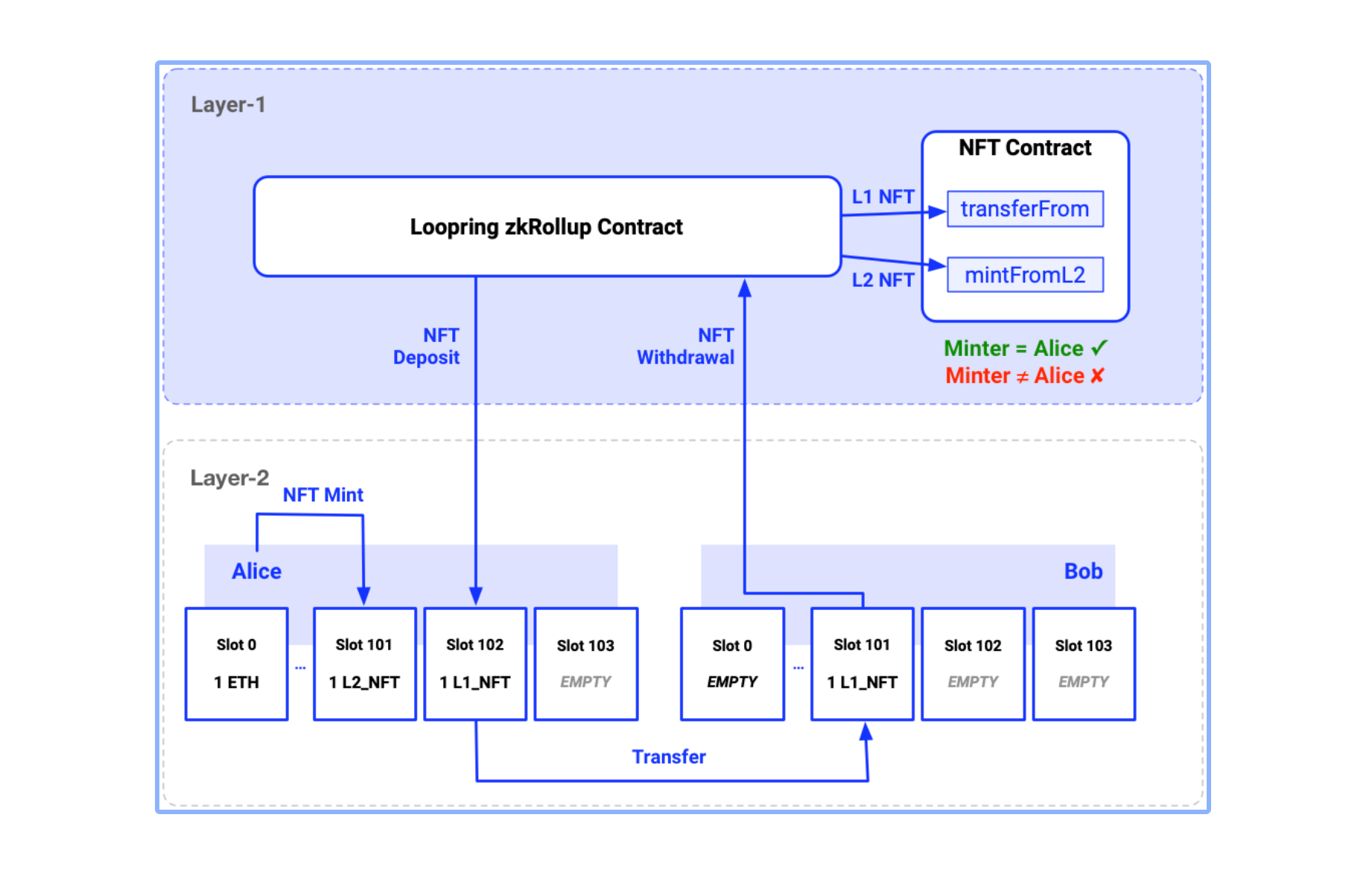 Loopring isn't just a decentralized cryptocurrency exchanges on Layer 2 but it also supports NFTs. This is a huge step for a Layer 2 scaling solution that Loopring has managed to achieve. Anyone using NFTs on the zkrollup platform with Loopring can instantly mint or trade NFTs on their platform Transaction cost for NFTs on the Loopring platform are also low and much lower than online platforms for NFTs like OpenSea. Loopring made NFTs compatible on Layer 2 in August of 2021, which they announced on their Medium blog.
Data stored on Loopring NFTs are the minter, token address, NFT type, NFT ID, and the creator fee. NFTs that are minted in the L2 Loopring network can be transferred to L1 whenever needed. This marks an efficient way to buy, sell, and transfer NFTs.
NFTs are a growing trend in the world of crypto and it doesn't seem likely that they will slow down any time soon. Having NFTs on a Layer 2 platform will massively increase innovation and bring several scaling alternatives to the space, especially when Ethereum is setting up to merge into a Proof of Stake system. NFTs have several additional use cases as well, such as music, notaries, and bringing community together.
Resources of the Loopring Protocol for zkRollups
If you wish to know more about Loopring, there are plenty of resources available that will help you understand their platform, the Loopring LRC token, Loopring price, market cap, and more.
For access to things like Loopring price, market cap, total supply, max supply, available exchanges, and 24 hour trading volume, you can visit Loopring on CoinGecko, CoinMarketCap, and Messari.
Loopring Price Today
Checking out the $LRC tokenomics beyond the Loopring price and market cap, check out the LRC token address and architecture on the Loopring LRC tab.
If you want to go beyond stats like 24 hour trading volume, Loopring price, and total supply, you can check out the Loopring website and the blog.
For interacting with Loopring, you can follow them on Twitter, Discord, YouTube, Medium, and Reddit.